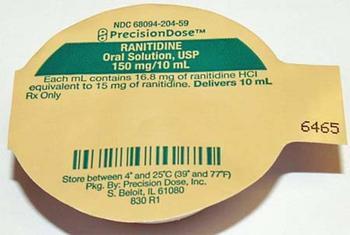 Precision Dose is recalling five lots of Ranitidine Oral Solution.
The product, used to treat and prevent ulcers of the stomach and intestines, and gastroesophageal reflux disease, is contaminated with N-Nitrosodimethylamine (NDMA), a probable human carcinogen, above levels established by the FDA.
The firm has not received any reports of adverse events to date.
The following lots of the product, USP 150 mg/10 mL packaged in unit dose cups (NDC 68094-204-59), and sold in 30-pack cartons (68094-204-62) or 100-pack cartons (68094-204-61) are being recalled:
| Lot | Expiry |
| --- | --- |
| 501290 | 30-Nov-2019 |
| 501326 | 30-Nov-2019 |
| 501501 | 30-Nov-2019 |
| 501592 | 30-Apr-2020 |
| 501679 | 30-Apr-2020 |
The lot number and expiration date are printed on each unit dose cup and carton label.
The recalled product was shipped nationwide to wholesalers, distributors and hospitals.
What to do
Patients who have experienced any problems that may be related to taking or using the recalled product should contact their physician or healthcare provider.
Consumers who purchased the recalled product should stop using it and call Precision Dose ( 815) 624-8523 to obtain a return packet.
Consumers with questions may contact the firm at (815) 624-8523) Monday through Friday 8 am to 4:30 pm (CST) or by e-mail at druginfo@precisiondose.com.