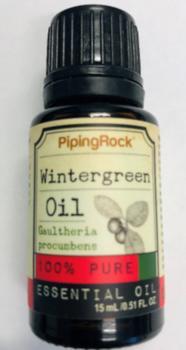 Piping Rock Health Products of Ronkonkoma, N.Y., is recalling 18,600 bottles of PipingRock wintergreen essential oil.
The bottles are not child resistant as required by the Poison Prevention Packaging Act, posing a poisoning risk if the contents are swallowed by young children.
No incidents or injuries are reported.
The recalled PipingRock wintergreen 100% pure essential oil is in a 1/2 fl. oz. (15 ml) glass amber dropper bottle.
It has a black cap and a yellow, red and green label with PipingRock Wintergreen Oil Gaultheria procumbens 100% Pure Essential Oil printed on the front.
Product number NT6446, UPC code 610256764467 and lot number 1905, 4000, 5980, 7420, 9344, 11202, 27180, 31397, 37913, 43369, 45843 or 56439 are printed on the back of the product.
The essential oil, manufactured in the U.S., was sold at Piping Rock Vitamin Factory Outlet nationwide and online at Amazon.com and PipingRock.com from March 2013, through June 2019, for about $5.
What to do
Consumers should immediately place the recalled essential oil out of the reach of children and contact Piping Rock Health Products for a full refund. Piping Rock Health Products is contacting all known purchasers directly.
Consumers may contact Piping Rock Health Products at (800) 544-1925 from 8 a.m. to 12 a.m. (ET) Monday through Saturday and 9 a.m. to 6 p.m. (ET) Sunday, by email at customerservice@pipingrock.com or online at www.pipingrock.com for more information.