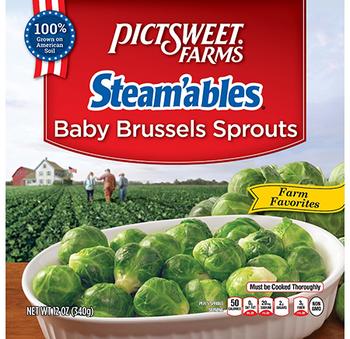 The Pictsweet Company is recalling 960 cases of Pictsweet Farms 12-ounce Steam'ables Baby Brussels Sprouts.
The product may contain milk and soy, allergens not declared on the label.
No illnesses or allergic reactions have been reported to date.
The recalled Pictsweet Farms 12-ounce Baby Brussels Sprouts has the UPC code 0 70560 97731 9, production codes beginning with the following five digits: 1508K, and a "BEST IF USED BY MAY 30, 2020."
The recalled product was distributed in Alabama, California, Delaware, District of Columbia, Georgia, Illinois, Indiana, Kentucky, Louisiana, Maryland, Michigan, Nevada, North Carolina, Ohio, Pennsylvania, South Carolina, Tennessee, Texas, Virginia, West Virginia and Wisconsin.
What to do
Customers who purchased the recalled product should return it to the place of purchase for a full refund
Consumers with questions may call the consumer affairs line at (800) 527-0986 Monday – Friday from 9am – 5pm (CDT).