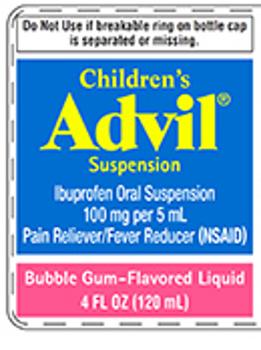 Pfizer Consumer Healthcare is recalling one lot of 4 FL-Oz. bottles of Children's Advil Suspension Bubble Gum Flavored.
Customers have complained that the dosage cup provided is marked in teaspoons and the instructions on the label are described in milliliters.
Use of the product with an unmatched dosage cup marked in teaspoons rather than milliliters has a chance of being associated with potential overdose.
Children's Advil Suspension Bubble Gum Flavored 4 FL OZ Bottle temporarily reduces fever, relieves minor aches and pains due to the common cold, flu, sore throat, headaches and toothaches.
The following product, distributed nationwide from May 2018, through June 2018, is being recalled: 
NDC
Lot 
Number
Expiration Date
SKU
UPC

Configuration

/Count

0573-0207-30
R51129
11/20

F00573

0207300

3-0573-0207-30-0

4 FL OZ (120 ml)
Bottle
36 bottles/case
What to do
Consumers with questions regarding the recall may contact the Pfizer consumer healthcare information line at (800) 88-Advil ((800) 882-3845) Monday – Friday, 9am – 5pm (EST).