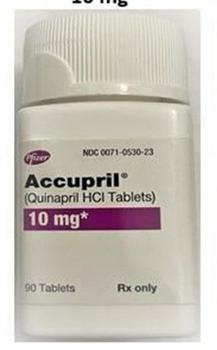 Pfizer is recalling five lots of Accupril (Quinapril HCl) tablets.
The blood pressure medicine contains a nitrosamine called Nnitroso-quinapril above the acceptable daily intake level, which may increase the risk of cancer.
There have been no reports of adverse events.
Specifics regarding the recalled product, which was shipped to wholesalers and distributors in the U.S and Puerto Rico from December 2019, to April 2022, may be found here.
What to do
Patients who are taking the recalled product should consult with their health care provider or pharmacy to determine if they have the affected product.
Patients with the affected product should contact Sedgwick at 888-345-0481 Monday through Friday from 8:00 a.m. to 5:00 p.m. (ET) for instructions on how to return their product and obtain reimbursement.