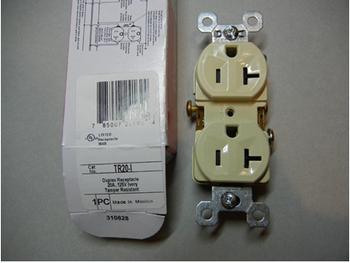 Pass & Seymour of Syracuse, N.Y, is recalling about 685,000 commercial-grade tamper resistant duplex receptacles.

A manufacturing error within the receptacles could lead consumers to incorrectly force the plug into the receptacle, causing the plug blades to overheat, posing a burn risk.
No incidents or injuries are reported.
This recall involves Pass & Seymour commercial-grade tamper resistant duplex electrical receptacles with the following model numbers:
Model Numbers

TR15GRY

TR20W

TR26342I

TR26352RNICC6

TR5352I

TR15I

TR20WCC8

TR26342LA

TR26352RW

TR5352LA

TR15LA

TR26242BK

TR26342W

TR26352W

TR5352W

TR15W

TR26252

TR26352

TR26352WCC8

WR20TR

TR20

TR26252BK

TR26352BK

TR5252

WR20TRGRY

TR20BK

TR26252GRYCC8

TR26352BKCC8

TR5252GRY

WR20TRGRYCC8

TR20CC8

TR26252I

TR26352GRY

TR5252I

WR20TRI

TR20GRY

TR26252LACC8

TR26352GRYCC8

TR5252LA

WR20TRLA

TR20I

TR26252W

TR26352I

TR5252W

WR20TRW

TR20ICC8

TR26252WCC8

TR26352LACC8

TR5352

WR20TRW

TR20LA

TR26342BK

TR26352RBK

TR5352BK

WR20TRWCC8

TR20LACC8

TR26342GRY

TR26352GCC6

TR5352GRY
The model number is printed on the labels on the individual product boxes or cartons. "Legrand" is printed on the back of the receptacles. The following manufacturing date codes can be found on the outside of the carton: 43U, 44U, 45U, 46U, 47U, 48U, 49U, 50U, 51U, 52U, 53U, 01V, 02V.

The following manufacturing date codes may also be found hot-stamped on the back of the device(s): "MU", NU", "PU" and "AV".
The receptacles, manufactured in Mexico, were sold at electrical equipment suppliers and other stores nationwide between October 2019, and February 2020, for between $3 and $10.
What to do
Consumers should immediately stop using the recalled receptacles and contact the firm for a free replacement, a full refund or a refund in the form of a credit.
Consumers may contact Pass & Seymour toll-free at (833) 552-0388 between 8 a.m. to 5 p.m. (ET) Monday through Friday, or online at www.legrand.us (look for "Pass & Seymour" in the "Brands" menu at the top of the page) and click on "Product Recall" under the "HELP" section at bottom of page for more information.