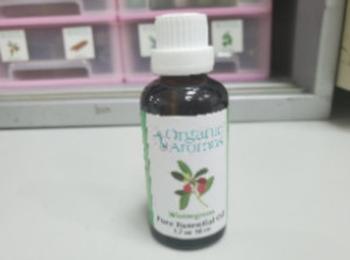 Organic Aromas of Boise, Idaho, is recalling about 300 bottles of Organic Aromas Wintergreen Essential Oil.
The product, which contains methyl salicylate, does not come in child resistant packaging as required by the Poison Prevention Packaging Act, posing a risk of poisoning.
No incidents or injuries are reported.
This recall involves Organic Aromas Wintergreen Essential Oil in 10-mL, 30-mL, and 50-mL amber glass bottles with white or black caps.
The firm name "Organic Aromas," the firm's logo, and "Wintergreen Pure Essential Oil," along with the volume amounts are printed on the white label. A 2-mL size that was sold as part of a set of sample sizes of assorted oils and called the "Discovery Collection," is also subject to this recall.
"WNTRGRN" is printed on a green label on the cap with the firm's logo on the side of the package.
The oils, manufactured in Taiwan, was sold exclusively online at www.organicaromas.com from November 2017, through January 2020, for between $12 and $84.
What to do
Consumers should immediately store the product in a safe location out of reach of children and contact Organic Aromas for store credit of the original purchase price or a replacement with any other essential oil of choice in the same size as the original purchase. Organic Aromas is contacting all known purchasers directly.
Consumers may contact Organic Aromas at (800) 369-5764 from 10 a.m. to 6 p.m. (ET) Monday through Friday, by email at info@organicaromas.com, or online at www.organicaromas.com and click on "Recall" at the bottom of the page for more information.