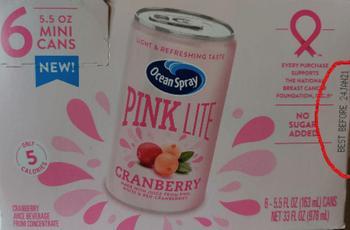 Ocean Spray Cranberries is recalling a single production lot of 5.5-oz cans of Pink Lite Cranberry Juice Drink.
The product may contain sulfites, a common preservative added to many food products, not declared on the label.
No illnesses have been reported to date.
The recalled product was sold in boxes containing six 5.5-oz cans and has any of the following code information:
Lot: MH0030LPK4
Pack Case UPC: 03120003782 4
Can UPC: 03120003682 7
GTIN Case 0003120023682 1
GTIN Case 0003120024682 0
Best Before Date: 24JAN21
Dates of Distribution: 21FEB2020 through 16APR20
What to do
Customers who purchased the recalled product should take a picture of the "best before date" code on the bottom of the can and then destroy the product.
The picture should be sent to casupport@oceanspray.com.
Consmers with questions may comtact the company at (800) 662-3263, weekdays 9:00 a.m. – 6:00 p.m.(ET), or a the above email address for a coupon replacement and/or for alternate methods to submitting the picture.