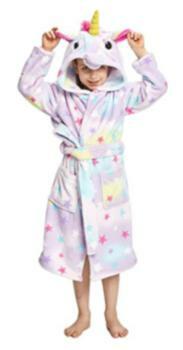 NewCosplay of China is recalling about 3,160 children's robes
The robes do not meet flammability standards for children's sleepwear. This means the robes could pose a risk of burn injuries.
No incidents or injuries have been reported.
This recall involves NewCosplay children's robes made of 100% micro polyester and sold in sizes 3T through 12 that come in 22 different patterns.
The robes have a sewn-in side seam belt, two functional front pockets, and a hood that is character-themed with a mane, ears, and horn.
The sewn-in neck label displays the fiber content, washing instructions, and "Made in China." The sewn-in side seam label displays the garment's size.
The robes were sold online at www.newcosplay.net and www.amazon.com from December 2021, through March 2022, for between $14 and $30, depending on the style.
What to do
Consumers should immediately take the recalled robes away from children, stop using them, and contact NewCosplay for a full refund.
Consumers who purchased the robes from Amazon.com will be contacted through Amazon's messaging platform and provided with prepaid mailers to return the products for a full refund. Consumers may also contact NewCosplay to request a postage prepaid mailer to return the products for a full refund.
Consumers may contact NewCosplay online or by email at 591025473@qq.com for more information.