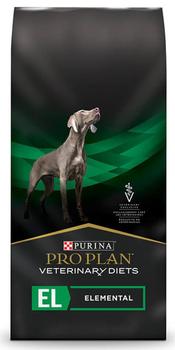 Nestlé Purina PetCare Company is expanding its earlier recall of Purina Pro Plan Veterinary Diets EL Elemental (PPVD EL) prescription dry dog food.
The product may contain elevated levels of Vitamin D, which can lead to health issues depending on the level of vitamin D and the length of exposure.
Vitamin D toxicity may include vomiting, loss of appetite, increased thirst, increased urination, and excessive drooling to kidney dysfunction.
An investigation prompted by Purina uncovered new information about a production error from a U.S. supplier that was made only to this recalled formula.
A list of the additional recalled product may be found here.
The recalled product was sold throughout the U.S., only by prescription and only through veterinary clinics, Purina Vet Direct, Purina for Professionals, and other select retailers with the ability to validate a prescription.
What to do
Customers who purchased the recalled product should immediately stop feeding dogs with it and discard it in a container where no other animals, including wildlife, can get to it.
Consumers with questions may contact the firm at (800) 345-5678 Monday -- Saturday, 8am -- 5pm (CST) or by email at https://www.purina.com/contact-us for assistance in getting a refund.