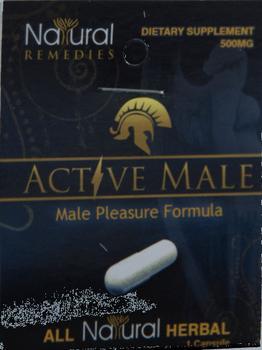 Natural Remedy Store is recalling all lots of Active Male.
FDA analysis has found the product is tainted with tadalafiln is an FDA-approved drug indicated for the treatment of male erectile dysfunction, not declared on the label.
That makes it an unapproved drug for which safety and efficacy has not been established.
There are no reports of adverse events to date.
The recalled product, in 500-mg capsules is packaged in small foldable cardboard with the image of a Trojan helmet and the name Active Male with BN: Nd6332.
It was sold at the Natural Remedy Store in San Antonio Texas, and through the company's website.
What to do
Customers who purchased the recalled product should stop using it t and return it to place of purchase and/or call the firm to arrange for return.
Consumers with questions may contact Natural Remedy Store at (210) 798-5433 Monday thru Saturday, 10:00AM to 6:00PM (CT) or by e-mail at natremedies@att.net.