---
WASHINGTON, August 5, 2002 -- Excel Industries Inc. is voluntarily recalling about 1,500 Hustler "FasTrak" riding lawn mowers. Excessive heat, vibrations and wear cause the fuel line to droop over time and rub against the transmission fan, causing the fuel line to be cut. This poses a fire hazard and a risk of burn injuries to consumers.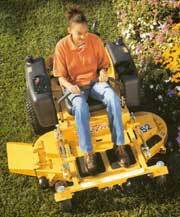 Excel has received two reports of incidents where gasoline leaks were discovered. No injuries or property damage have been reported. The recall is being conducted in cooperation with the U.S. Consumer Product Safety Commission (CPSC).
This recall involves Hustler "FasTrak" riding mowers with 44- and 52-inch decks. The riding mowers are yellow and black with the "FasTrak" logo printed on both sides. The model and serial number of the mower can be found on an identification plate on the left side of the frame in front of the fuel tank, below the operator's platform.
| Model Number | Serial Number |
| --- | --- |
| 926501 | P01107001 to P01107003 and 01127001 to 02057338 |
| 926519 | 01127008 to 02057218 |
| 926527 | 02027112 |
| 926592 | 01117001 to 02057263 |
| 926600 | 02027111 to 02057243 |
| 926774 | 02047277 to 02057128 |