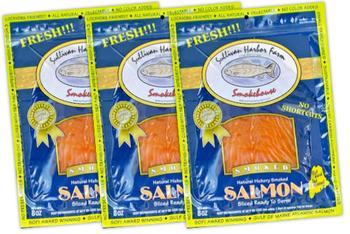 Mill Stream Corp. (Sullivan Harbor Farm) of Hancock, Maine, is recalling ten lots of Cold Smoked Salmon.
The product may be contaminated with Clostridium botulinum, which can cause life-threatening illness or death.
No illnesses have been reported to date.
The recalled product, sold between March 6, 2019, and September 17, 2019, in vacuum sealed packages in the following sizes: whole salmon side, 2 lb., 1 lb., 8 oz., and 4 oz., is marked with the following lot numbers marked on the back of the packages: 7049, 7050, 7051, 7052, 7054, 7056, 7058, 7060, 7062, 7066.
It was sold and distributed through retail, wholesale and online orders in Maine, Massachusetts, Vermont, Rhode Island, New York, Connecticut, Pennsylvania, New Jersey, Ohio, Utah, Iowa, Tennessee, Minnesota, Colorado, Florida, Arizona, Wisconsin, Washington, Georgia, Illinois, Virginia, Michigan and Texas.
What to do
Customers who purchased the product should not use the product even if it does not look or smell spoiled, but discard it immediately.
Consumers with questions may contact the company at (207) 266-0621 Monday – Friday, 8am – 5pm (EST).