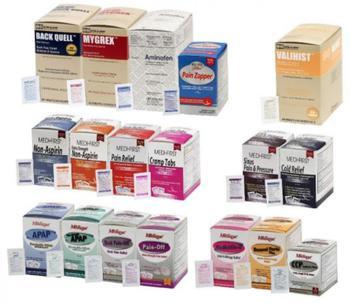 Medique of Fort Myers, Fla., is recalling 31 Medique over-the-counter drugs from the Medi-First, Medi-First Plus, Medique, Dover, Otis Clapp and Ecolab product lines.
The products contain regulated substances which must be in child resistant packaging when being used in the household as required federal law.
The packaging is not child resistant, posing a risk of poisoning if the contents are swallowed by young children.
No incidents or injuries are reported.
The recall involves 31 different over-the-counter drugs purchased on or after June 1, 2018, that are unexpired from the following brands: Medi-First, Medi-First Plus, Medique, Dover, Otis Clapp, and Ecolab.
They include aspirin-containing products, acetaminophen-containing products, ibuprofen-containing products, lidocaine-containing products, diphenhydramine, loperamide, and naproxen products.
The expiration date for tablets and creams can be found on either the top or side panels of the container carton in the format [YEAR/MO].
For products in spray bottles, the expiration date in the same format is located on the front of the bottle. The expiration date is found on the bottom for the spray cans.
A list of the 31 recalled products may be found here.
The recalled products, manufactured in the U.S., were sold exclusively at Amazon.com from June 2018, through June 2020, for between $2 and $59.
What to do
Consumers should immediately store the recalled products in a safe location out of reach of children and contact Medique for information on how to dispose of the product and receive a full refund. All known purchasers are being notified directly.
Consumers may contact Medique at (800) 680-2474 from 8 a.m. to 7 p.m. (ET) Monday through Friday, or online at www.mediqueproducts.com and click on "Recall Notice" at the bottom of the page for more information.