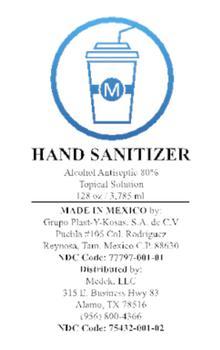 Medek is recalling all lots of M Hand Sanitizer Alcohol Antiseptic.
The product contains methanol (wood alcohol), which can result in nausea, vomiting, headache, blurred vision, permanent blindness, seizures, coma, permanent damage to the nervous system or death.
It may also be sub-potent for the ethanol content. The use of sub-potent hand sanitizer products can have adverse health consequences related to nfections.
There are no reports of adverse effects.
The recalled product, used as a hand sanitizer for hand washing to decrease bacteria on the skin when soap and water are not available, is packaged in a one (1) gallon (128 oz/3,785 mL) High-density polyethylene (HDPE) plastic bottle, NDC 75432-001-02.
It was sold directly to walk-in customers in Alamo, Texas, between April 17and May 22,2020.
What to do
Customers who purchased the recalled product should stop using it and return it to place of purchase.
Consumers with questions may contact Medek at (956) 800-4366 Monday -- Friday from 9 am -- 5 pm CST).