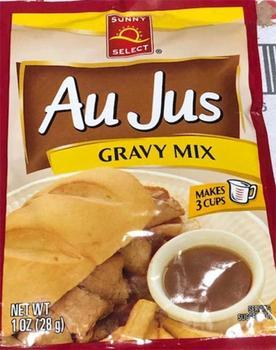 McCormick & Company is recalling 1-oz pouches of Sunny Select Au Jus Gravy Mix.
The product contains milk, an allergen not declared on the label.
The following item, shipped to California and sold by Save Mart, S-Mart Foods, Lucky and FoodMaxx retailers, is being recalled:
Sunny Select Au Jus Gravy Mix 1 oz., UPC: 717544135500, Date Codes: BEST BY DEC 08 2021 H or DEC 09 2021 H
What to do
Customers who purchased the recalled product need not return it to the store where purchased, but should discard it.
Consumers with questions may contact the company at (800) 632-5847, weekdays from 9:00 AM to 7:00 PM (ET).