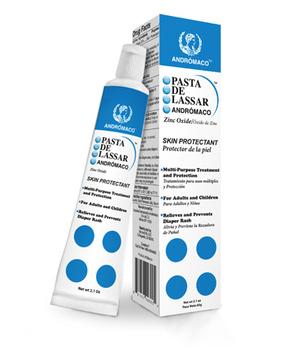 MarcasUSA and Industria Farmacéutica Andromaco, S.A. de C.V. are recalling four lots of Pasta De Lassar Andromaco Skin Protectant, 25% zinc oxide.
The product is contaminated with high levels of yeast, mold and bacteria, which could increase the risk of infection.
The company has not received any reports of adverse events to date.
The following over-the-counter skin protectant, used for treatment and prevention of diaper rash and other minor skin irritations, is being recalled:
Description
Item Code
Lot Numbers
Exp Date
PASTA DE LASSAR 
ANDROMACO® 
Skin Protectant, 25% zinc oxide
Topical cream, 60-gram tube
UPC #851357003004
NDC #75940-111-60
17LP117
15PL041
15PL040
15PL039
10-2020
04-2018
04-2018
05-2018
The recalled product, packaged in 60-gram tubes sold in individual boxes (UPC #851357003004, NDC #75940-111-60), was sold nationwide via wholesale, retail and the internet.
What to do
The company is notifying and customers directly and is arranging for return of all recalled products.
Customers who purchased the recalled product should stop using it and return it to the place of purchase or discard it.
Consumers with questions may contact MarcasUSA at 800-428-9489 Monday - Friday from 8am to 5pm (PST) or by e-mail at info@pastadelassar.com.