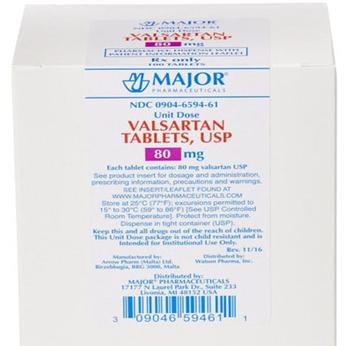 Major Pharmaceuticals is recalling all lots Valsartan which was supplied by Teva Pharmaceuticals and labeled as Major Pharmaceuticals and is used to treat hypertension (high blood pressure) and heart failure.
Trace amounts of an unexpected impurity -- N- nitrosodimethylamine (NDMA -- were found in an active pharmaceutical ingredient (API).
NDMA has been classified as a probable human carcinogen as per International Agency for Research on Cancer (IARC) classification.
The following product, distributed nationwide as unit dose blisters with 100 tablets per carton, is being recalled:
Product Description
NDC Number
Item Number
Lot Number
Expiration Date
Valsartan 80mg Tablets, USP
0904-6594-61
302086
T01795
05/2019
T01807
05/2019
T01712
02/2019
T01625
02/2019
T01596
02/2019
T01500
02/2019
T01466
07/2018
T01270
07/2018
Valsartan 160mg Tablets, USP
00904-6595-61
302087
T01646
05/2019
T01788
05/2019
T01668
05/2019
T01524
02/2019
T01269
07/2018
What to do
Consumers with questions regarding the recall may contact Major Pharmaceuticals customer support at (800) 616-2471, Option #1 Monday through Friday, 8 a.m. – 8 p.m. (EST).