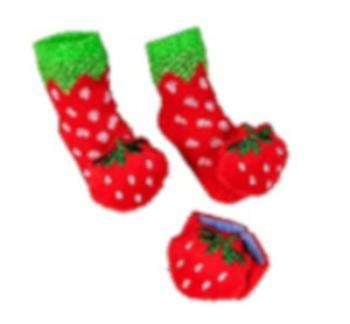 London Bridge is recalling about 7,500 infant sock and wrist rattle sets.
Rattles sewn inside the socks and wristbands can detach, posing a choking hazard to young children.
The firm has received one report of the stuffed rattle portions detaching. No injuries have been reported.
This recall involves a set of matching baby socks and wristband which contain a small rattle sewn inside the wristband and the toe of each sock.
The sets were sold in various colors and styles, including strawberry, ladybug, animals and sports themes ans is labeled for ages 0-6 months.
The hang tag on the product has the London Bridge name and logo and 'Baby Wrist Rattle and Rattle Sock Set 0-6 months.'
The back of the hang tag includes fiber content and care information, Batch #608315, Date code October 2018 and the Item # (LB5000, LB5001, LB5002, LB5003, LB5004, LB5005, LB5006 or LB5007).
The sock and wrist rattle sets, manufactured in China, were sold at independent boutique stores nationwide from January 2019, through May 2019,  for about $7.
What to do
Consumers should immediately stop using the sock and rattle sets, take them away from children and return them to the store where they were purchased or contact London Bridge to receive a full refund.
Consumers may contact London Bridge at (800) 653-5048 from 9 a.m. to 5 p.m. (ET) Monday through Friday, by email at support@maisonchiconline.com or online at www.maisonchiconline.com for more information.