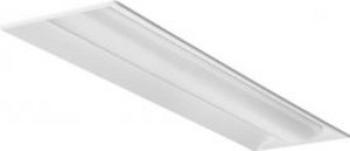 Lithonia Lighting of Conyers, Ga., is recalling about 398,000 BLT series commercial luminaires.
The plastic lens on the luminaire can detach and fall unexpectedly, posing a risk of injury from impact.
The firm has received 107 reports of plastic lenses falling from the luminaire. No injuries have been reported.
This recall involves Lithonia Lighting BLT series luminaires intended for use in indoor commercial applications, such as office buildings, schools and stores.
The low-profile, recessed LED luminaire is a metal light fixture in a white finish with a rounded or square plastic lens. The fixtures measure about 1, 2 or 4 feet long and 1, 1.5 or 2 feet wide.
Only non-sensor luminaires with a manufacture date from October 2015 through August 2016 are included in this recall.
Lithonia Lighting, the model and date of manufacture can be found on a label attached to the fixture's housing and on the product packaging. The date code on the fixture's housing's label is in a MM/DD/YY format. The date code on the packaging is in a YYYY/MM/DD format.
The luminaires, manufactured in the U.S and Mexico, were sold at lighting and electrical supply distributors nationwide and online at 1000Bulbs.com, Amazon.com, ATGStores.com, Build.com, HD.com, ShineRetrofits.com, and Wayfair.com from October 2015, through August 2016, for between $150 and $250.
What to do
Consumers should remove the lens and contact Lithonia Lighting to receive a free repair kit to secure the original lens. Consumers should prevent people from going into the immediate area under the fixtures until the lenses are removed or the luminaires are repaired. A video showing proper lens removal and installation of the repair kit is available at www.lithonia.com/bltvideo.
Consumers may contact Lithonia Lighting toll-free at 844-675-2339 from 8 a.m. to 5 p.m. (ET) Monday through Friday or online at www.lithonia.com and click on BLT Recall on the left side of the page for more information.