---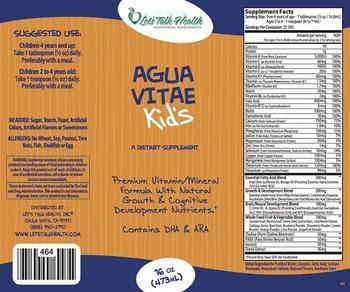 Let's Talk Health, Inc., is recalling its 15-packet jars of "Energizer Drink Mix," Agua Vitae Liquid Multi-Vitamin, Agua Vitae Kids Liquid Multi-Vitamin and Tox-Elim.
The products contain milk and soy, allergens from Whey Protein not listed on the label.
No illnesses have been reported to date.
The following products, distributed nationwide in retail stores and through mail orders are being recalled:
Energizer Drink Mix Citrus
0.3 oz Packets
Lot #14593 & #15431
UPC #91131180631
Energizer Drink Mix Strawberry/Banana
0.3 oz Packets
Lot #14592 & #15411
UPC #91131180624
Energizer Drink Mix Pomegranate
0.3 oz. Packets
Lot #14594 & #15432
UPC 91131180525
Agua Vitae Multi-Vitamin Liquid
32 oz. White Bottle
Lot #15193
UPC #91131181096
Agua Vitae Kids Multi-Vitamin Liquid
16 oz. White Bottle
Lot #15193
UPC #91131180280
Tox Elim Liquid
32 oz. White Bottle
Lot #15425
UPC #91131181119
What to do
Customers who purchased the recalled products should return them to the place of purchase for a full refund.
Consumers with questions may contact the company at 1-888-950-2190 Monday - Friday from 8:00 am – 5:00 pm (PST).
---