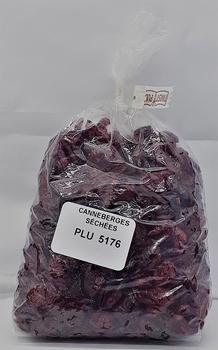 Les Aliments Johnvince is recalling sweetened dried cranberries.
The product may be contaminated with E. coli O157:H7.
No illnesses have been reported.
The following item, which may have been sold in Canada's Quebec province with or without codes from May 28, 2020, through June 8, 2020, is being recalled:
Brand
Product
Size
UPC
Codes
Additional information
None
Sweetened dried cranberries
PLU 5176
Variable weights (plastic bag of approximately 300 g)
None
06472
06481
0648
This packaged product may have been sold with or without codes from May 28, 2020 up to and including June 8, 2020. Consumers who are unsure if they have purchased the affected product are advised to contact their retailer.
What to do
Customers who purchased the recalled product should not consume it, but discard or return it to the store where purchased.
Consumers with questions may contact the company at (450) 655-4764, ext. 2221.