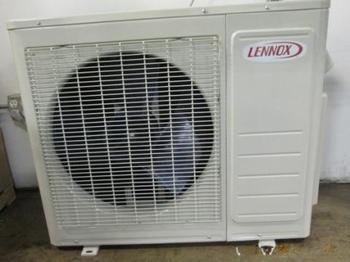 Lennox Industries Inc. and/or Lennox Industries (Canada) Ltd., of Canada is recalling about 1,700 Lennox Ductless Single-Zone and Multi-Zone heat pumps.
Internal electrical components can fail, allowing the units to overheat, posing a fire hazard.
The firm has received two reports, both in Canada, of overheating. One report included a small hole in the heat pump motor due to melting and one report of the fan blade and motor catching fire. No injuries have been reported.
This recall involves three models of Lennox Ductless Single-Zone or Multi-Zone heat pumps.
The model and serial numbers can be found on the nameplate on the side of the units.
Only heat pumps with the following model and serial numbers are included in the recall:  
                                                                                                       Model Number          Serial Number
| | |
| --- | --- |
| MPA018S4M-1P | 6915XXXXXX or 6916XXXXXX |
| MPA048S4S-1P | 6915XXXXXX or 6916XXXXXX |
| MPA048S4M-1P | 6915XXXXXX or 6916XXXXXX |
The heat pumps, manufactured in China, were sold at Lennox independent dealers nationwide from January 2016, through November 2019, for between $8,700 and $15,550.
What to do
Consumers should immediately contact their installing servicer, dealer, or contractor to arrange for a free replacement of the outdoor unit.
While awaiting replacement, consumers should monitor the recalled heat pumps while they are being operated and keep foliage and other flammable items at least 24 inches away from the recalled units.
Lennox is contacting all known independent dealers about the recall directly. The dealers will contact individual consumers to arrange for recalled outdoor units to be removed and replacement units to be installed.
Consumers may contact Lennox at (800) 527-3506 from 8 a.m. to 5 p.m. (CT) Monday through Friday or by clicking on the Recall Notice posting at the top of the landing page of https://www.lennox.com or by visiting https://www.lennox.com/about/safety/product-recalls.