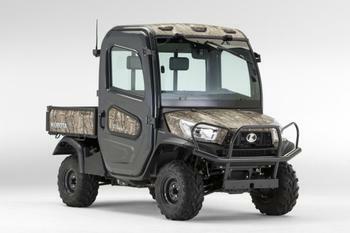 Kubota Tractor Corporation of Grapevine, Texas, is recalling about 48,875 Kubota RTV-X1100C model utility vehicles.
The floor mats can warp or degrade and interfere with the throttle pedal, posing crash and injury hazards.
The firm has received one report of a loss of control that resulted in black eyes and minor bruising.
This recall involves model year 2013 through 2021 base model Kubota RTV-X1100C utility vehicles. Specific models may include an additional letter after the "C," for example, 1100CR. Recalled units have serial numbers ranging from 10001 through 67546. The model number and serial number are on the side of the unit and on the data plate.
The utility vehicles, manufactured in the U.S., were sold at authorized Kubota dealers nationwide from April 2013, through September 2021, for between $21,300 and $22,950.
What to do
Consumers should immediately stop using the recalled utility vehicles and contact an authorized Kubota dealer.
If the floormat is warped or degraded, consumers will receive a new floormat installed by the dealer that will be secured by rivets to the floor. If the utility vehicle's floormat is not warped or degraded, the dealer will complete a modification to the existing floormat by trimming the mat and then securing it by rivets to the floor.
Kubota is contacting all known consumers directly.
Consumers may contact Kubota toll-free at (888) 458-2682 from 8 a.m. to 5 p.m. (CT) Monday through Friday, online at https://www.kubotausa.com/service-support/safety/safety-notices, or www.kubotausa.com. Consumers can click "Contact" at the bottom of those pages for additional information.