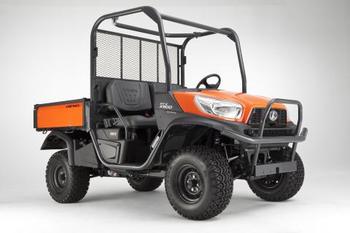 Kubota Tractor of Grapevine, Texas, is recalling about 26,900 RTV-X series utility vehicles.
The seat belt stays can break, posing an injury hazard in the event of a crash.
The company has received three reports of seat belt stays breaking worldwide. No incidents have been reported in the U.S. No injuries have been reported.
This recall involves Kubota RTV-X series utility vehicles with model numbers ending in 900, 1100, 1120D and 1140. The diesel-powered vehicles were sold in orange and camouflage. Kubota and Diesel are printed on the side of the rear bed box.
The model number is on the side of the unit and on the data plate located on the back of the cab, between the cab and the bed.
The utility vehicles with the following serial numbers, located on the data plate, are included on this recall:
Model

Serial Number Range

Manufacture Date Range

RTV-X900

31229 through 42402

12/2015 through 6/2017

RTV-X1100

26899 through 35995

RTV-X1120D

18541 through 20746

RTV-X1140

10001 through 19546

6/2015 through 6/2017
The utility vehicles, manufactured in the U.S., were sold at authorized Kubota dealers nationwide from June 2015, through June 2017, for between $15,000 and $25,000.
What to do
Consumers should immediately stop using the recalled vehicles and contact an authorized Kubota dealer to schedule a free repair. The firm is contacting consumers directly.
Consumers may contact Kubota at 800-752-0290 from 8:30 a.m. to 4:30 p.m. (PT) Monday through Friday or online at and click on www.kubota.com and click on Service and Support, then Safety and then Safety Notices for more information.