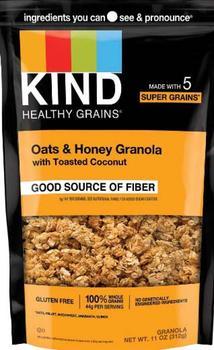 KIND Healthy Snacks is recalling a limited number of Oats & Honey Granola with Toasted Coconut pouches.
While sesame seeds are not listed as an ingredient in the product, the label does list "sesame seeds" under the "May Contain" statement.
No allergic reactions have been reported to date.
The recalled product, sold in a plastic pouch, and available in two sizes -- 11 ounces (UPC: 60265217186-4) and 17 ounces (UPC: 60265225101-6) -- was sold through retail stores and ecommerce sites nationwide.
The following "Best By Dates" are on the bottom of the pouch:
For the 11-oz pouch, the Best By dates range from April 4, 2021 to June 1, 2021
For the 17-oz pouch, the Best By dates range from April 30, 2021 to June 1, 2021
What to do
Customers who purchased the recalled product and have an allergy or sensitivity to sesame seeds should immediately discontinue use of it and contact the company by email at customerservice@kindsnacks.com or online at www.kindsnacks.com/oatsandhoneygranola.