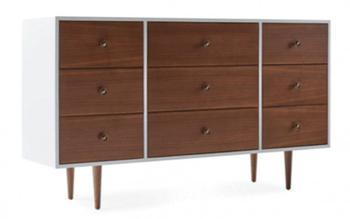 Joybird of Commerce, Calif., is recalling about 100 Blythe dressers.
The dressers are unstable if not anchored to the wall, posing tip-over and entrapment hazards that may result in death or serious injuries to children.
No incidents or injuries are reported.
This recall involves Joybird's Blythe dressers made of plywood with a painted white finish exterior and nine brown-colored, veneer-faced plywood drawers with round knobs that are finished with a low-gloss lacquer.
The dressers measure about 66 inches wide, 18 inches deep and 37.5 inches high and weigh about 209 pounds.
Stickers on the back of each recalled dresser state "Stitch Industries, Inc." the month and year of manufacture, and the words "TSCA Title VI Compliant."
The dressers, manufactured in Mexico, were sold online at Joybird.com from October 2017, through July 2019, for about $1,700.
What to do
Consumers should immediately stop using the recalled dresser if not properly anchored to the wall and place it into an area that children cannot access.
Consumers should contact Joybird for a free in-home repair to the dresser's legs or a free one-time in-home installation of a tip-over restraint kit by a technician plus a $50 gift card to be used on Joybird's website, or free pick-up of the dresser for a full refund. Joybird is contacting all known purchasers directly.
Consumers may contact Joybird toll-free at (888) 282-0842 from 6 a.m. to 4 p.m. (PT) Monday through Friday and from 9 a.m. to 2 p.m. (PT) Saturday, by email at support@joybird.com or online at www.joybird.com and click on "Product Safety" at the bottom of the page for more information.