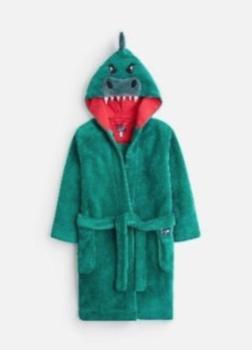 Joules USA of New York and Joules Limited of England, are recalling about 12,300 sets of children's pajamas and robes sold in the U.S. and Canada.
The garments fail to meet the federal flammability standard for children's sleepwear, posing a risk of burn injuries.
No incidents or injuries are reported.
This recall involves Joules girls' and boys' pajamas and robes sold in multiple prints and sizes. Joules is printed on the sewn-in neck label.
Garments with the following item numbers, printed on the wash care label, are included on this recall.
Robes: 204653-PINKBUNNY, 205705-CRMSTPFLRL, 207961-TURTLGREEN, Z_ODRMARK-HGRDINO, 205682-NVYROCKETS, 205706-MULTSTRIP, Z_ODRTEDDY-CRMMSTP, 203155-WHTBLUSTRP, 203219-FRNVSTRP, Z_ODRROBAN-NAVMSTP, Z_ODRBRUCE-NAVBEAR, Z_ODRUNICRN-SKYBUNI
Nightgown: 203153-WHTFRTFLRL
Pajama Sets: 205707-REDCHK, 205681-GRYROKTPAK, 205681-NVCRMPKTDN, 205681-WHITEDINO, Z_ODRKIPWLL-CREMBLUSTP, Z_ODRKIPWLL-CREMNVYSTR, Z_ODRKIPWLL-DAZZBLU, Z_ODRKIPWLL-REDDINO, Y_ODRKIPWELL-DAZZBLU, Y_ODRKIPWELL-GRYMARL, 204649-BLUCREMDTS, 204649-BLUMOONBAK, 204649-PNKGALAXY, 204649-SLVBLVUNIC, Z_ODRSLEPWL-CUNICRN, Z_ODRSLEPWL-PAWESME, Z_ODRSLEPWL-PKMGRFL, Z_ODRSLEPWL-SKBLUNI, Z_ODRSLEPWL-SKIIDOG, Z_ODRSLEPWL-WHTXMASDOG, 205680-LBLUROCKET, 205680-NVYROCKETS, Z_ODRMINSNZ-CRMBIRDFLR, Z_ODRMINSNZ-PINKCHECK, Z_ODRSNOOZE-FNVZREX, Z_ODRSNOOZE-SBLKFTP, 203150-BLUSTPCATN, 203150-BLUSTRFLRL, 203222-GREYSHARKS, 205153-BLUBLSTOFF, 205153-NVSTRMNSTR
The garments, manufactured in China and Hong Kong, were sold at children's boutiques nationwide and online at www.joulesusa.com from November 2017, through December 2019, for between $20 to
What to do
Consumers should immediately stop using the recalled garments, take them away from children and contact Joules USA for a full refund.
Consumers may contact Joules USA at (800) 583-9559 from 3 a.m. to 1 p.m. (ET) Monday through Friday, by email at product.recall@joules.com with "Recall" as the email subject or online at www.joulesusa.com and click on "Safety Recall" at the top of the page for more information.