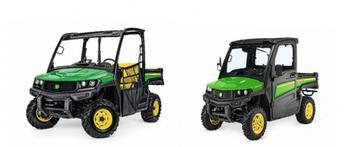 Deere & Company of Moline, Ill., is recalling about 19,800 John Deere XUV835 Gator utility vehicles sold in the U.S., and Canada.
The plastic sheathing on the throttle cable can melt due to improper routing, causing the throttle to stick. This could result in the operator not being able to stop the vehicle, posing a crash hazard.
The firm has received reports of nine incidents. No injuries have been reported.
This recall involves John Deere Gator utility vehicles with model number "XUV835" printed on the hood. "John Deere" and "Gator" are printed on the cargo box.
The serial number is located on the frame directly above right front tire and begins with 1M0835 and falls within the ranges on the chart below.
The recalled utility vehicles were sold in green and yellow, olive drab and camouflage and have side-by-side seating for two or three people, depending on the seat option. 
Serial Number Range
1M0835ExxxM010001 - 1M0835ExxxM020413
1M0835MxxxM010001 - 1M0835MxxxM022741
1M0835RxxxM010001 - 1M0835RxxxM023115
1M0835EAPMM560107
1M0835MECLM544103
1M0835MAPMM560108
1M0835RBCLM544102
1M0835RATMM560102
1M0835RAPMM560103
1M0835RAKMM560104
1M0835RAJMM560105
The vehicles, manufactured in the U.S., were sold at John Deere dealers nationwide from November 2017, through July 2019, for between $13,860 and $22,930.
What to do
Consumers should immediately stop using the recalled vehicles and contact an authorized John Deere dealer for a free inspection and repair of improperly routed throttle cables. John Deere is contacting all known purchasers directly.
Consumers may contact Deere & Company at (800) 537-8233 from 8 a.m. to 6 p.m. (ET) Monday through Friday and 9 a.m. to 3 p.m. (ET) on Saturday, or online at www.deere.com and click on "Recalls" on the drop-down menu under "Parts & Services" at the top of the page for more information.