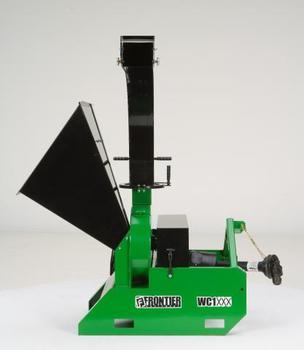 Deere & Company of Moline, Ill., is recalling 25 Frontier wood chippers.
The wood chipper's knives (blades) can break and discharge, hitting the operators or bystanders, posing a risk of injury.
No incidents or injuries are reported.
This recall involves Frontier wood chippers with model numbers WC1103, WC1105, and WC1205.The green and black landscaping machines have knives (blades) that grind up tree branches turning them into wood chips or mulch.
The model number and "Frontier" brand name are printed on the side of the machine. The serial number is located on the inside surface of the right hand frame on the rear of the machine.
Only wood chippers with the following serial numbers are included in this recall:
ModelSerial Number
WC1103                      1XFWC11XCH0801562
                                    1XFWC11XVH0801563
                                    1XFWC11XJH0801530
                                    1XFWC11XPH0801539
                                    1XFWC11XHH0801535
                                    1XFWC11XTH0801524
                                    1XFWC11XEH0801536
                                    1XFWC11XCH0801537
                                    1XFWC11XTH0801538
                                    1XFWC11XCH0801545
                                    1XFWC11XVH0801546
                                    1XFWC11XCH0801540
                                    1XFWC11XAH0801547
                                    1XFWC11XAH0801550
WC1105                      1XFWC11XCH0801568
                                    1XFWC11XTH0801541
                                    1XFWC11XPH0801542
                                    1XFWC11XJH0801544
                                    1XFWC11XLH0801548
                                    1XFWC11XHH0801549
                                    1XFWC11XLH0801551
                                    1XFWC11XEH0801553
WC1205                      1XFWC12XAH0800915
                                    1XFWC12XVH0800914
                                    1XFWC12XHH0800917
The chippers, manufactured in the U.S., were sold at John Deere dealers nationwide from July 2017, through August 2017, for between $3,800 and $8,000.
What to do
Consumers should immediately stop using the recalled wood chippers and contact a John Deere dealer for a free repair. John Deere is contacting all purchasers directly.
Consumers may contact Deere & Company at 800-537-8233, from 8 a.m. to 6 p.m. (ET) Monday through Friday, and Saturday from 9 a.m. to 3 p.m. (ET), or online at www.deere.com and select Recalls on the drop-down menu under Parts & Services for more information.