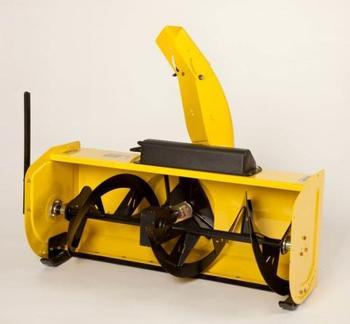 Deere & Company of Moline, Ill., is recalling about 2,550 attachment kits for John Deere Snow Blowers and 52-inch Brooms.
The kits are missing the product operator's manual, which details proper attachment and use of the product, posing an injury hazard.
No incidents or injuries are reported.
This recall involves attachment kits for John Deere Snow Blowers and 52-inch Brooms that are used with model 1023E, 1025R and 2025R Compact Utility Tractors.
The John Deere snow blower and broom attachment kits were sold separately and have a label with BLV10793 or BLV10794 printed on the box.
The attachment kits, manufactured in the U.S., were sold at John Deere dealers nationwide from August 2017, through November 2018, for about $200.
What to do
Consumers should immediately stop using their John Deere Compact Utility Tractor Snow Blower or 52-inch Broom and contact an authorized John Deere dealer for a free copy of the operator's manual. John Deere is contacting all known purchasers of the recalled attachment kits. If an attachment kit has an operator's manual, consumers can continue to use their snow blower or broom.
Consumers may contact Deere & Company at (800) 537-8233 from 8 a.m. to 6 p.m. (ET) Monday through Friday, Saturday from 9 a.m. to 3 p.m. (ET), or online at www.deere.com and select Product "Recalls" on the drop-down menu under "Parts & Service" at the top of the page for more information.