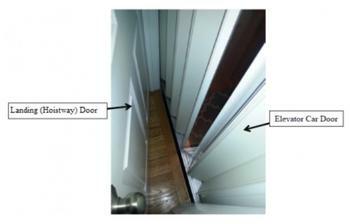 Inclinator Company of America of Harrisburg, Pa., is recalling about 39,300 Inclinator residential elevators.
Young children can become trapped in the space between the exterior landing (hoistway) door and the interior elevator car door or gate if there is a hazardous gap. This could cause serious injuries or death when the elevator is called to another floor.
No incidents or injuries have been reported.
This recall involves Inclinator residential elevators manufactured from 1979 through 2021. The affected models include Winding Drum (450 – 1,000 lb.), Hydraulic Drive, Chain Drive, Traction Drive and Overhead Cable Drum.
Serial numbers are located on the elevator controllers, stamped on the rails, or on the outside of the drum for Winding Drum units.
The elevators, manufactured in the U.S., were sold at Inclinator residential elevators. Parts were sold through a network of authorized dealers and, occasionally, directly to consumers from January 1979, through December 2021, for between approximately $20,000 and $35,000 including installation.
What to do
Consumers should keep unsupervised young children away from the recalled residential elevators and contact the manufacturers for instructions on how to measure for space guards to correct any hazardous gap. Space guards will be provided free of charge and assistance with space guard installation will be provided on request.
Consumers may contact Inclinator toll-free at (833) 620-2949 from 7:30 a.m. to 4:30 p.m. (ET) Monday through Friday, or online at www.home-elevator-door-gap.com, for more information.