---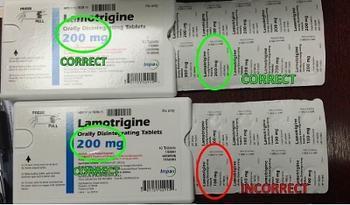 Impax Laboratories is recalling one lot of 200 mg Lamotrigine Orally Disintegrating Tablet (ODT).
Unit-of-use blister packs (a 10-count blister card contained in a single plastic shell-pack) may contain 100 mg product instead of 200 mg product. As a result, consumers could take less than their intended lamotrigine dose.
Lamotrigine is indicated for the treatment of epilepsy or bipolar disorders. It is important for consumers to take the dose of lamotrigine prescribed by their physicians. A reduction in dose may lead to reduced therapeutic effects of lamotrigine and reemergence of epilepsy or bipolar disorder symptoms.
The following product is being recalled:
| NDC Number | Blister Pack | Lot Number |
| --- | --- | --- |
| 0115-1529-08 | 30 | 502240 |
The recalled lot was distributed between June 13, 2016, and August 10, 2016, to wholesale distributors and retail pharmacies nationwide. The lot number can be found on the side of the manufacturer's carton as well as on the blister cards within the unit-of-use blister packs.
What to do
Consumers should carefully inspect their medication. If they have the recalled lot or any questions or concerns regarding this recall they should contact Stericycle at 1-866-300-2207, Monday through Friday. 8:00 a.m. – 5:00 p.m. (EST).
Consumers who are unsure if they have the affected lot number or have any concerns about their product should consult their pharmacy or health care professional.
---