---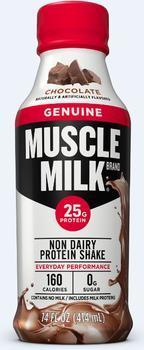 HP Hood is recalling certain code dates of protein drinks from its Sacramento, Calif. Facility.
A possible packaging defect may result in product spoilage during transport and handling.
No confirmed reports have been received to date of any consumer illness or injuries.
The recalled products are limited to plastic bottles of 14-oz. and 10-oz. MUSCLE MILK® Genuine, MUSCLE MILK® Pro Series, MUSCLE MILK® 100 Calorie, with Best By dates of November 21, 2016 through May 23, 2017, with an "HS" in the code date.
The following products are being recalled:
PRODUCT
FLAVOR
UPC (case)
UPC (unit)
MUSCLE MILK Genuine
Muscle Milk 14oz
Banana
8-76063-00223-3
8-76063-00203-5
Muscle Milk 14oz
Chocolate
8-76063-00221-9
8-76063-00201-1
Muscle Milk 14oz
Cookies N Crème
8-76063-00224-0
8-76063-00204-2
Muscle Milk 14oz
Strawberry
8-76063-00229-5
8-76063-00209-7
Muscle Milk 14oz
Vanilla Crème
8-76063-00222-6
8-76063-00202-8
Muscle Milk 14oz
Caramel Kick
8-76063-00214-1
8-76063-00219-6
Muscle Milk 10oz
Chocolate
8-76063-00271-4
8-76063-00261-5
Muscle Milk 10oz
Vanilla Crème
8-76063-00272-1
8-76063-00262-2
Muscle Milk Pro Series 40 14 oz
Crushin' Cookies
8-76063-00293-6
8-76063-00283-7
Muscle Milk Pro Series 40 14 oz
Intense Vanilla
8-76063-00291-2
8-76063-00281-3
Muscle Milk Pro Series 40 14 oz
Knock Out Chocolate
8-76063-00290-5
8-76063-00280-6
Muscle Milk Pro Series 40 14 oz
Going Bananas
8-76063-00294-3
8-76063-00284-4
Muscle Milk 100 Calorie 14 oz
Chocolate
8-76063-00575-3
8-76063-00565-4
What to do
Consumers may notice that, in some cases, the packaging is bloated and product inside may have an off taste or odor. The product should not be consumed but returned to the store where purchased for an exchange.
Consumers with questions may call customer relations at 1-877-446-7635 Monday – Thursday 7:45 AM – 4:00 PM (CST) or Friday 7:45 AM – 2:45 PM (CST).
---