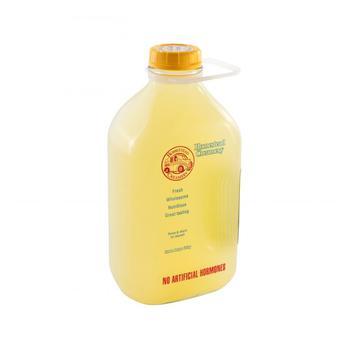 Homestead Creamery of Wirtz, Va., is recalling various glass-bottled products.
The bottles may have a strong sanitizer odor which may affect the taste and quality of the product. There is no known health risk associated with the issue at this time.
No serious illnesses have been reported to date.
A list of the recalled products may be found here.
The best by date of the bottle is located on the side of the bottle cap.
Shipments of the products in returnable glass bottles were started on October 15, 2020, in Virginia, West Virginia, North Carolina, South Carolina, Georgia, Alabama, Ohio, Pennsylvania, Maryland, New Jersey and New York through retail stores, direct delivery and wholesale distributors.
Eggnog and custard round, non-returnable glass bottles with the best by date of November 15 were shipped to Fresh Market stores in Alabama, Arkansas, Connecticut, Delaware, Florida, Georgia, Illinois, Indiana, Kentucky, Louisiana, Maryland, Massachusetts, Mississippi, New Jersey, New York, North Carolina, Ohio, Oklahoma, Pennsylvania, South Carolina, Tennessee and Virginia starting on October 14th, 2020.
What to do
Customers who purchased the recalled products should return the bottles to the place of purchase for a full refund.
Consumers with questions may contact the company at (540) 721-2045 Monday- Friday, 8:00am-4:30pm (ET)