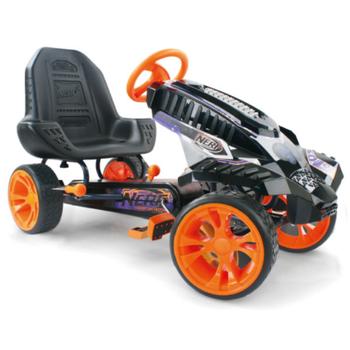 Hauck Fun For Kids, Inc. is recalling over 26,000 units of its Hauck Nerf Battle Racer go-karts due to a defect in the product's steering wheel. 
The company says that the steering wheel can detach, break, or crack while in use, which can cause lacerations and increase the risk of a collision. 
The Nerf Battle Racers are four-wheel pedal powered go-karts that can be identified by the "Nerf" logo on each side of the kart and black and orange wheels. Affected products bear a T91869 model number, which can be found on a white sticker on the underside of the seat.
The products' date of manufacture can be found in the same location; recalled products will have a date of manufacture between 01/2016 and 03/2017.
Hauck has received 639 reports of the steering wheel detaching, breaking, or cracking thus far, with two cases resulting in injury.
The company urges consumers to stop using the product immediately and contact it for a new steering wheel. The company can be reached via its online site or by calling its toll-free number at 877-428-2545 from 9 a.m. to 5 p.m., Monday through Friday.