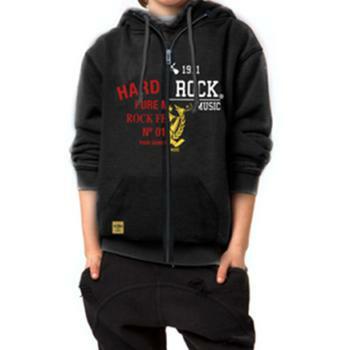 Parents shopping for back-to-school outerwear should be aware that hooded sweatshirts with drawstrings can be dangerous for their kids.
Hard Rock Cafe International, as an example, has put out a recall notice for about 1,550 Hard Rock Cafe Children's Hooded Sweatshirts.
The drawstring in the sweatshirt's hood can become tangled or caught on objects, and pose a strangulation.
While no incidents or injuries have been reported in this case, the Consumer Product Safety Commission says there were 26 deaths and 73 nonfatal incidents between January 1985 and June 2019 involving children 18 months to 15 years of age.
The most common of these involved drawstrings getting tangled on playground slides, but there have also been cases when the long, trailing drawstring at the waist of a jacket was caught on the closed door of a moving school bus.
The recalled Hard Rock Cafe Children's Hooded Sweatshirt with a neck drawstring was sold in black with red and white lettering on the front reading "HARD ROCK MUSIC 1971."
It comes in sizes ranging from S (6-8), M (8-10) and L (10-12).
A list of the item numbers printed on a tag inside the neckline of the sweatshirt, may be found here.
The sweatshirts were manufactured in Portugal and were sold from September 2019, through January 2022, for about $36 at Hard Rock Cafes nationwide.
What to do
Consumers should immediately take these garments away from their children and remove the drawstring to eliminate the hazard.
Or. they may return the sweatshirt to Hard Rock for a full refund, shipping included.
Consumers may contact Hard Rock toll-free at (888) 519-6683 from 8 a.m. to 5 p.m. (CT), Monday through Friday, by email at rockshop@hardrock.com or online at https://shop.hardrock.com/en-us/cms/recall/recall/1.html for more information.