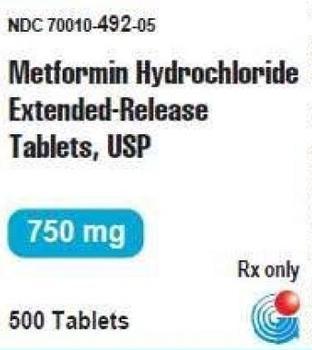 Granules Pharmaceuticals of Chantilly, Va., is recalling 12 lots of Metformin Hydrochloride Extended-Release Tablets.
Analysis shows the prescription oral medication, used as an adjunct to diet and exercise to improve blood glucose control in adults with type 2 diabetes mellitus, exceeded the Acceptable Daily Intake Limit for the impurity N-Nitrosodimethylamine (NDMA).
NDMA is classified as a probable human carcinogen (a substance that could cause cancer).
The firm has not received any reports of adverse events.
The following items, which come in 100 and 500 count bottles, are being recalled:
NDC

Bottle Count

Lot/Expiration

70010-492-01
100 count bottles
4920003A/May-21
4920004A/Jun-21
4920005A/Jun-21
4920009A/Nov-21
4920010A/May-22
4920011A/Jun-22
4920012A/Jun-22
4920013A/Jul-22 4920014A/Jul-22
4920015A/Aug-22
4920016A/Jan-23
70010-492-05
500 count bottles
4920005B/Jun-21
What to do
Patients with questions or who wish to return the recalled product may contact Inmar Pharmaceutical Services at (888) 985-9117 from 9 am to 5 pm (ET) Monday – Friday) or by email at rxrecalls@inmar.com. Inmar will provide the materials needed to return medication and instructions for reimbursement.