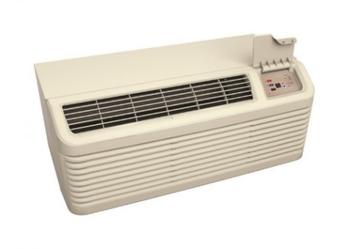 Goodman Company of Houston, Texas, is recalling about 537,400 Packaged Terminal Air Conditioners/Heat Pumps (PTACs) sold in the U.S. and Canada.
The outdoor fan motors can overheat, posing burn and fire hazards.
The firm has received nine reports of PTACs catching on fire, including one report of smoke inhalation with medical attention.
This recall involves Goodman, Amana, York International and Energy Knight branded Packaged Terminal Air Conditioners and Heat Pumps (PTACs).
The recalled units are beige and the brand name is printed on most of the units' control covers.
Models that begin with the following prefixes are included in this recall: EKTC15, EKTH15, PMC15, PMH12, PMH15, PTC15, PTH12, PTH15, UCYB15 and UCYH15.
Only units with the first four digits of the serial numbers in the range between 1001 and 1709 are affected.
The model number and serial number are located on a label behind the front cover of the unit.
Most of the recalled PTAC units are installed in hotels, motels, schools, apartment buildings and commercial spaces to provide room climate control.
The PTAC units, manufactured in the U.S., were sold at Goodman and heating and cooling dealers nationwide from January 2010, through February 2018, for between $700 and $1,400.
What to do
Consumers should contact Goodman for a free repair kit and installation by an authorized technician.
Commercial owners are being contacted directly and will be provided with free repair kits.
Consumers may contact Goodman toll-free at 888-803-0512 from 7 a.m. to 6 p.m. (CT) Monday through Friday or online at https://www.amana-ptac.com/ and click on "Recall Info & Registration" for more information.