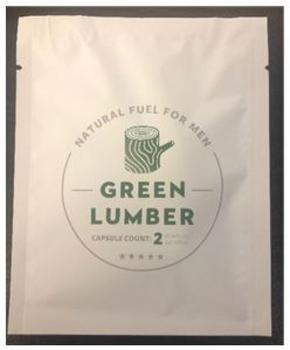 GL Holdings is recalling six lots of Green Lumber purchased on or before August 10, 2019.
FDA analysis has found the male sexual enhancement product is tainted with tadalafil, which is not declared on the label.
Consumers with diabetes, high blood pressure, high cholesterol or heart disease often take nitrates. The combination of tadalafil and nitrates may lower blood pressure to dangerous levels which can be life threatening.
The firm has not received any reports of adverse events.
The recalled product is packaged in 2-, 4-, and 10-capsule blister packs, some of which are marked with "XC06 EXP 06/2022, "XC12EXP12/2020," "XC06EXP06/2021," "XC10EXP10/2021," "XC02EXP02/2022," or "XC04EXP04/2022."
It is sold in the U.S. and Canada on the internet in a white wrapper with a green Green Lumber logo on the front and has one of the following UPC codes:
2 pack: X0020TSV4R
4 pack: X0020TRRHJ
10 Pack: X0020TUJLZ
What to do
GL Holdings is notifying its distributors and customers by email and is arranging for replacement of recalled products, at the request of the customer.
Customers who purchased the recalled product should stop using it and return any unused product to GL Holdings.
Consumers with questions may contact GL Holdings at (949) 426-8622 Monday through Friday from 9 a.m. – 5 p.m. (ET) or by email at recall@greenlumber.com.