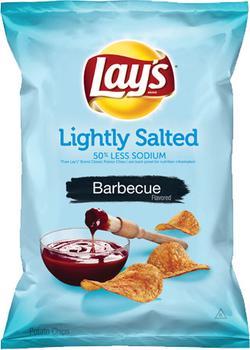 Frito-Lay is recalling 7 3/4-oz. bags of Lay's Lightly Salted Barbecue Flavored Potato Chips.
The product may contain milk, an allergen not declared on the label.
No adverse events have been reported to date.
The recalled products have both a "Guaranteed Fresh" date of 27 AUG 2019 and a nine-character manufacturing code that includes the numbers "29" in the second and third position (example: x29xxxxxx) listed below the "Guaranteed Fresh" date.
These numbers are on the right side of the front of the bag. The recalled bags also have a UPC code of "28400 63242" listed on the bottom left side of the back of the bag.
The recalled products were sold at retail stores in Arkansas, Arizona, California, Colorado, Idaho, Iowa, Kansas, Louisiana, Minnesota, Missouri, Mississippi, Montana, North Dakota, Nebraska, New Mexico, Nevada, Oklahoma, Oregon, South Dakota, Tennessee, Texas, Utah, Washington and Wyoming.
What to do
Customers who purchased the recalled may return the product to a retailer for a refund or contact Frito- Lay consumer relations at (800) 352-4477 from(9 a.m. – 4:30 p.m. (CST) Monday – Friday.