---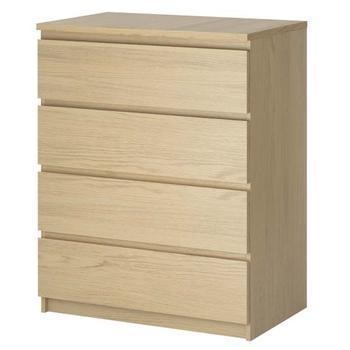 Federal safety officials have updated the IKEA chest and dresser recall with new information that a fourth child was killed five years ago when hit by a tipped-over dresser.
The Consumer Product Safety Commission (CPSC) said a two-year-old boy in Woodbridge, Va., was killed in September 2011 when one of IKEA's MALM dressers that wasn't anchored to the wall fell on him.
"Consumers should immediately stop using any recalled chest and dresser that is not properly anchored to the wall and place it into an area that children cannot access," the company said in a release. "Contact IKEA for a choice between two options: refund or a free wall-anchoring repair kit."
Additional 29 million chests
About eight million MALM chests and dressers and 21 million children's and adult chests and dressers sold in the U.S. are included in the recall that was initially launched in June.
Consumers with one of the recalled chests can order a free wall-anchoring repair kit that can be professionally installed at no cost to the consumer.
CPSC says the children's chests and dressers included in the recall are more than 23.5 inches tall. The adult chests and dressers are 29.5 inches and taller.
Unstable
The recalled products include MALM 3-drawer, 4-drawer, 5-drawer, and three 6-drawer models, as well as some other children's and adult chests and dressers. The furniture is unstable if it isn't properly anchored to the wall. That, safety officials say, can pose a serious tip-over and entrapment hazard that can kill or injure children.
The initial recall began in June, when a third death of a child was reported. The MALM chests and dressers are constructed of particleboard or fiberboard and are white, birch (veneer), medium brown, black-brown, white stained oak (veneer), oak (veneer), pink, turquoise, grey, grey-turquoise, lilac, green, brown stained ash (veneer), and black. A 5-digit supplier number, 4-digit date stamp, IKEA logo, country of origin, and "MALM" are printed on the underside of the top panel or inside the side panel.
As we reported in August, consumer groups contend that the IKEA furniture is responsible for killing at least six toddlers and injuring 36 others. At the time, the groups called on IKEA to be more aggressive in removing the implicated furniture from homes.
IKEA was also accused of defying a court order that it turn over information to the mother of a two-year-old West Chester, Pa., boy who was killed by an Ikea dresser in 2014.
Over the summer, IKEA began airing a television ad (below), warning parents about the dangers of unsecured chests and demonstrating how to make them safer.
---