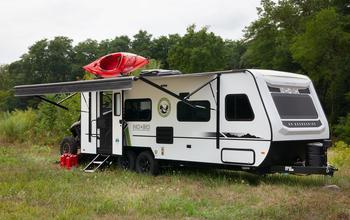 Forest River is recalling 71 model year 2021 No Boundaries 10.5 and 10.6 travel trailers with Dometic CFX3 Series chest refrigerators (models CFX3 35, CFX3 45, CFX3 55IM, CFX3 75DZ, CFX3 95DZ and CFX3 100).
The protection device on the electrical circuit may fail when the refrigerator is connected to both AC and DC power, allowing the AC/DC power supply to back feed through some or all of the other appliances (such as the air conditioner, water pump, lights, furnace, etc.) that are connected to the 12V DC system. A voltage overload may result, causing DC appliances on the same circuit to fail.
A voltage overload may cause electrical damage and increase the risk of a fire.
What to do
The remedy is still under development.
This recall is expected to begin August 11, 2020.
Owners may contact Forest River customer service at (574) 642-3119 Option 2, or Dometic customer service at (888) 943-4905. Forest River's number for this recall is 51-1189.