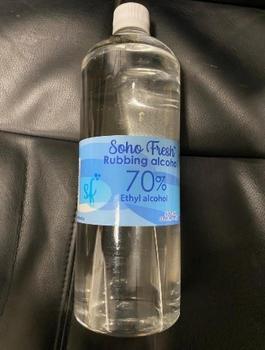 Essaar is recalling a single lot of Soho Fresh 70% Rubbing Alcohol.
The product is contaminated with methanol, which can result in nausea, vomiting, headache, blurred vision, permanent blindness, seizures, coma, permanent damage to the nervous system or death.
There are no reports of adverse events to date.
The recalled product, used as an external purpose use rubbing alcohol, is packaged in 33.81 oz. clear plastic bottles with lot number 200528303 and UPC 7502268987367.
It was sold in retail stores nationwide.
What to do
Customers who purchased the recalled product should stop using and discard or return it to place of purchase..
Consumers with questions may contact Essaar (201) 647-7606 Monday through Friday, 9am – 5pm (EST) or by email at essaarinc@yahoo.com.