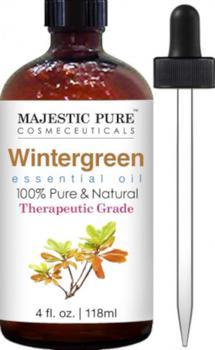 Epic Business Services of San Diego, Calif., is recalling about 11,5980 containers of Majestic Pure Wintergreen Oil.
The packaging is not child resistant as required by the Poison Prevention Packaging Act, posing a risk of poisoning to young children if they ingest it.
No incidents or injuries are reported.
This recall involves Majestic Pure Wintergreen essential oil.
"Majestic Pure" Logo Wintergreen essential oil 100% Pure and Natural Therapeutic Grade is written on the front of the brown bottle. The side panel ingredients specifically mentions "Wintergreen (Gaultheria procumbent) essential oil. Steam distilled."
It also states safety recommendations, directions and storage guidelines.
The recalled product, manufactured in China, was sold online at Amazon.com from June 2016, to April 2019, for about $18.
What to do
Consumers should immediately store the product in a safe location out of reach of children and contact the firm to receive a free replacement child resistant dropper. All known purchasers are being notified directly by the firm about the recall.
Consumers may contact Epic Business Service toll-free at (888) 995-8495 from 10 a.m. to 4 p.m. (PT) Monday through Friday, by email at info@majesticpure.com or online at www.majesticpure.com and click on "Product Safety Recall" at the bottom of the page for more information.