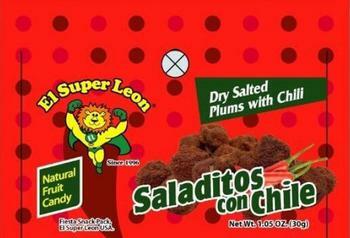 El Super Leon Ponchin Snacks of San Diego, Calif., is recalling El Leoncito and El Super Leon brands of Saladitos Dry Salted Plums with and without Chili.
The products may be contaminated with lead, but no illnesses have been reported to date.
The recalled products, sold under the brands El Leoncito and El Super Leon, are packaged in plastic peg bags with net weights of 1.05 ounces, 1.4 ounces, and 16 ounces. They were sold in retail, grocery, convenience, and cash & carry stores in California.
The Dry Salted Plums are packaged with a green top packaging, and the Dry Salted Plum with Chili and chamoy is packaged with red top packaging.
What to do
Customers who purchased the recalled products should not consume them. Instead, they should discard them.
Consumers with questions can call (619) 271-0846 from 8 a.m. to 2 p.m. (PST) Monday through Friday for more information.