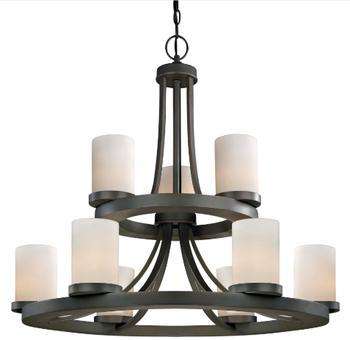 Dolan Northwestof Portland, Ore., doing business as Seattle Lighting, Globe Lighting, Builders Lighting and Destination Lighting, is recalling about 260 Design Classics chandeliers.
The top loop of the fixture can bend and break causing the chandelier to fall, posing an impact and laceration hazard.
The firm has received four reports of the top loop failing causing the chandelier to fall, resulting in one report of property damage to the floor under the chandelier. No injuries have been reported.
This recall involves Design Classics chandeliers with model number 161-78.
The chandelier has nine individual light sockets and white glass cylinder shades over each socket. They are 28¼ inches tall and 31¼ inches wide with a Bronze finish.
Model number 161-78 and the date of manufacture are printed on a label affixed to the underside of the ceiling canopy.
Dates of manufacture included in the recall are between 01November2012 and 15November2015.
The chandeliers, manufactured in China, were sold at Seattle Lighting, Globe Lighting and Builders Lighting showrooms in the Pacific Northwest and online at DestinationLighting.com from November 2012, through May 2017, for about $390.
What to do
Consumers should prevent people from going into the immediate area underneath the chandelier. Contact Dolan Northwest to receive a free repair.
Consumers may contact Dolan Northwest toll-free at (888) 213-5758 from 9 a.m. to 5 p.m. (PT) Monday through Friday, email recall@dolanco.com or online at www.seattlelighting.com, www.globelighting.com,www.builderslighting.com, or www.destinationlighting.com and click on "Recalls" for more information.