---
WASHINGTON, April 19, 2001 -- The Disney Store is voluntarily recalling about 54,000 Princess Ariel (The Little Mermaid) costumes. Fabric used in these costumes can ignite readily and presents a serious risk of burn injuries in violation of the Federal Flammable Fabrics Act.

CPSC and Disney are aware of two reports of costumes igniting, resulting in one burn injury to a 4-year-old girl.

The recall is being conducted in cooperation with the U.S. Consumer Product Safety Commission (CPSC).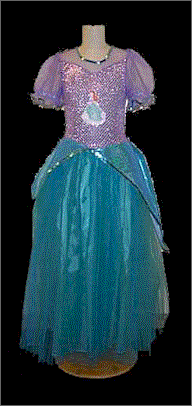 The Princess Ariel costume has a green skirt with two layers of netting on top and a sequined purple metallic bodice with a picture of Ariel. The costumes were sold in youth sizes 2-4, 4-6X and 8-10. The neckline labels read "The Disney Store."

The Disney Store sold the costumes for Halloween from July 2000 through October 2000. The Disney Store catalog and DisneyStore.com sold the costumes from July 2000 through January 2001. The costumes sold for about $29.

Consumers should stop wearing these costumes immediately, and return them to any Disney Store or to the Disney Store catalog for a refund and a $10 gift certificate. For more information, call Disney at (800) 328-5902 between 8 a.m. and 5 p.m. CT Monday through Friday, or e-mail the company at disneystore.costume@disneyonline.com.

The recall does not include Princess Ariel costumes sold before July 2000. The earlier Ariel costume was a mermaid fin-like costume with a knee-length, sequined skirt.