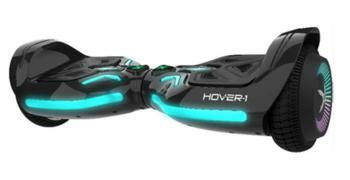 DGL Group has issued a recall for 93,000 model year 2020 Hover-1 Superfly Hoverboards because of a software malfunction that could endanger riders. 
The company says a flaw in the electrical system could cause the motors on affected products to continuously provide assistance. This means the products could continuously gain momentum even when a rider is not actively controlling the hoverboard, posing fall and injury hazards.
DGL Group has received 29 reports of a software issue that caused a hoverboard to provide continued assistance when the rider was not actively controlling it, leading to four minor injuries. 
The recalled products were sold only in black with blue LED lights on the hoverboard deck near the foot pads. "Hover-1" is written on the front of the hoverboards, and a serial number beginning with SPFY-BLK-GO-2008, SPFY-BLK-GO-2009, or SPFY-BLK-GO-2010 is printed on the bottom. A warning label stating "H1-SPFY" is also printed on the bottom near the serial number.
Consumers were able to buy the recalled hoverboards at Best Buy stores nationwide and on Bestbuy.com from October 2020, through October 2021, for around $200.
What to do
Consumers are being advised to immediately stop using the recalled hoverboards and contact DGL Group for instructions on how to ship them to authorized repair shops for a free repair.
Consumers can contact the company toll-free at 888-556-8426 from 9 a.m. to 5 p.m. (ET) Monday through Friday for more information. They can also visit the company's website here and click on "Safety Recall" to submit a repair request.