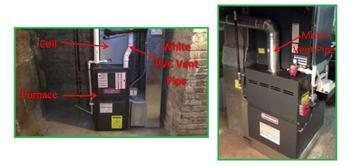 Daikin Comfort Technologies (DCT) Manufacturing (formerly Goodman Manufacturing Company) of Houston, Texas, is expanding its earlier recall of evaporator coil drain pans to about 242,000. This will include those installed with non-condensing gas furnaces.
The molded plastic drain pan located at the bottom of the evaporator coil can overheat, melt, and deform, posing a fire hazard.
The firm has received 26 reports of fires involving evaporator coil drain pans, including three reports fires since the recall was announced in November 2021. Several of these incidents have resulted in significant fire and smoke damage to residences. No injuries have been reported.
This recall expands the scope of a previous recall that involved certain evaporator coil drain pans installed with condensing gas furnaces in an up-flow coil configuration. The recall now also includes those drain pans installed with certain configurations of competitor branded (not Goodman, Daikin, or Amana-branded) non-condensing residential gas furnaces in a vertical, or "up-flow," coil configuration.
A list of the affected products may be found here
The evaporator coil drain pans, manufactured in the U.S., were sold at heating and cooling equipment independent dealers nationwide from January 2019, through November 2021, for between $200 and $1,200 per unit.
Consumers may have purchased a bundled product, including the coil, furnace, installation, and ancillary parts and supplies, or may have purchased the evaporator coil drain pan separately as a replacement product.
What to do
Consumers should contact DCT to determine whether their unit is included in this recall and to register for the free repair by a qualified technician.
DCT is contacting all registered consumers where records indicate that their gas furnace system is subject to the expanded recall.
Consumers may contact DCT toll-free at (888) 520-0579 from 7 a.m. to 6 p.m. (CT) Monday through Friday or online for more information.